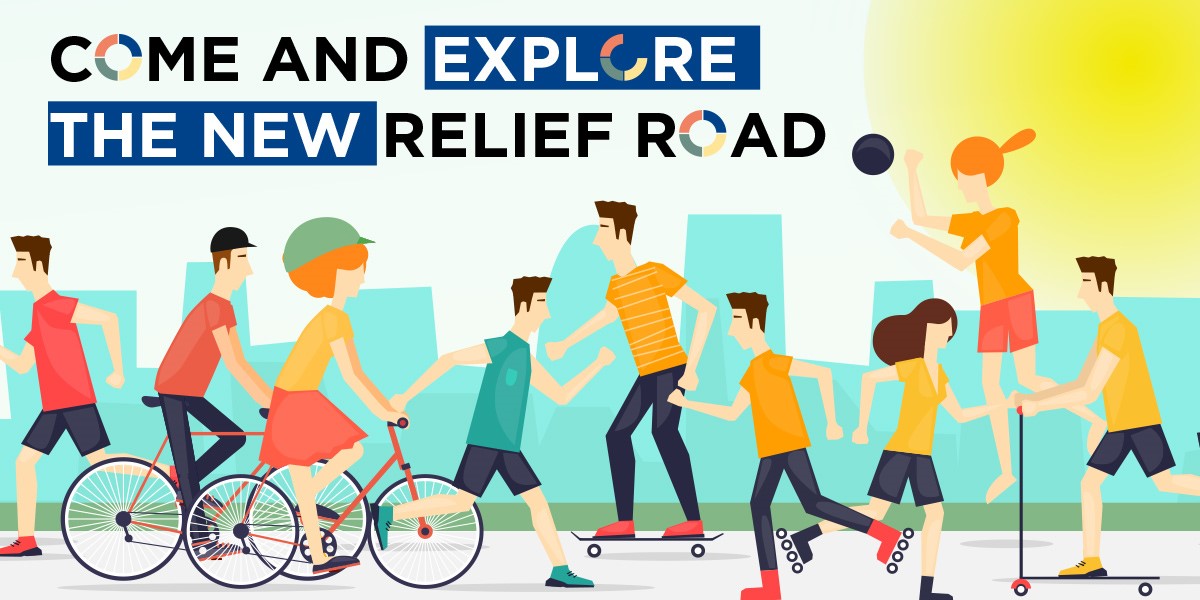 The A6 to Manchester Airport Relief Road is nearly finished and we want to give you a chance to come and explore it for yourself before it opens to traffic!
On Sunday 7th October, a day of community sporting activities for all the family will be taking place on the new road, giving you a chance to come along and join in the fun, as well as get an up close look at the work that's been taking place.
Whether you like to run, walk or cycle there will be something for everyone to enjoy.
All of the events will be free for everyone to attend with most of the events taking place on the section of the relief road just off Macclesfield Road, SK7 6DT.  Pedestrian access to this section to the road will be available from the new junction off Macclesfield Road, immediately to the south of Fiveways Dean Lane junction, close to Brookside Garden Centre.
PARKING
A free regular shuttle bus will be running throughout the day from the Hazel Grove Park & Ride and visitors and runners/racers are being encouraged to use this so that we can keep the local roads clear.
TIMETABLE FOR THE DAY – ORGANISED EVENTS
9:30am – Wheelchair 5K
Wheelchair racers including up and coming Paralympians will take part in a 5k timed race.
10:00am – A6MARR 5k run
1,200 runners will be taking to the road for a timed run.
All of the places in the run and the wheelchair race are now fully booked but all of the racers would love your support so why not come down and cheer them on!
11:00am – 3:00pm: There will be a wide range of activities will be taking place for you to come and enjoy.  The road will be available to the public from Macclesfield Road to Styal Road, including the existing A555 and during this time will be able to be accessed on foot or by bike at all junctions and public rights of way access such as footpaths onto the road.
Activities will include:
"Let's Ride" with British Cycling
Cycle obstacle courses with Ceracycle
Try your hand at wheelchair racing with Stockport Wheelchair Racing Club
Cycle skills training
Free bike maintenance
Fun games for all ages
As well as a chance to walk, run or cycle along parts of the new road at your leisure
All activities will be open for everyone to turn up and enjoy and require no pre-booking.
3:00pm – Classic car parade
Around 200 classic cars will be taking to the new road for a classic car parade. Come down and watch vehicles from the past 100 years be the first to drive along the new road.
Upon completion of the classic car parage, the events will come to an end.
EVENT DISCLAIMER
Anyone can take part in the event on Sunday 7th October, however please read all of the information below for your safety:
By entering / participating in the days event, you confirm you are medically fit to take part and that you accept that the organisers will not be responsible for any loss, damage, illness or injury sustained as a result of taking part in the event on the highway.
A risk assessment has been completed for participants taking part on the road, so please do not stray away from this as we cannot guarantee your safety. In bad weather please take care as the road may become slippy. Buggys and scooters are allowed on the road in addition to dogs, but these must remain on a lead at all times. Please ensure you clean up after any pets.
It is imperative that you follow the signs as walkers and runners will be on one side of the carriageway and the cyclists on the other.
A6MARR 5KM
Distance:  5km
Start Time:  10:00am
Age:  14+
Start & Finish Location:   A6 to Manchester Airport Relief Road, just off Macclesfield Road, SK7 6DT
Entry cost:  Free
All 1,200 places on the 5k run have now been filled.  Full joining information will be sent to anyone taking part in the run by email ahead of the event.
REFRESHMENTS
Food and drink will be available to purchase at the event.  Alcohol will not be permitted at the event.
OPENING OF THE A6MARR
The events taking place on are ahead of the opening of the relief road to traffic on Monday 15th October.  To find out more about the road's opening please visit our News page.