Work is now complete on Carillion Morgan Sindall's (CMS) first community project at Stanley Hall Park, Handforth, Cheshire.
Friends of Stanley Hall Park have produced a five year development plan for the park to bring it back to its former glory and the construction of a new accessible picnic area formed part of the first set of actions to encourage new user groups into the park. CMS supplied labour and materials e.g. sand, cement, paving slabs and over a four day period helped to transform the area.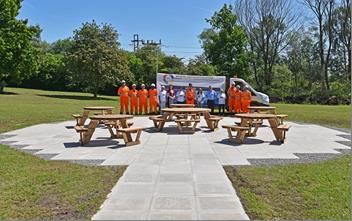 CMS with Friends of Stanley Hall Park members at the completed picnic area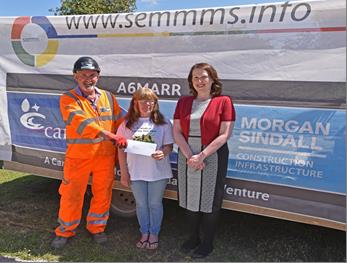 Dia Redman and Helen Sheldon handing the picnic area back to Janet Quinn, Chair of the Friends of Stanley Hall Park Group
CMS are also providing support for two other community projects which are currently being developed:
Woodbank Park Athletics Stadium Improvement Project
Stockport Harriers and Athletics Club is home to over 400 individuals aged between eight and 80 who enjoy the benefits of a running and athletics club which caters for all levels of experience and talent. They are closely affiliated with a number of community and sporting groups including Stockport Wheelchair Racing which uses the Woodbank Park facilities for wheelchair racing. CMS will be looking to provide a cabin that can be modified for the Wheelchair Racing Group and helping with volunteering days and any fundraising activities.
Wythenshawe Campus Community Garden
Wythenshawe Campus offers pupils with emotional, social or behavioural difficulties an alternative curriculum, providing practical skills courses including horticulture and catering. CMS will be assisting the development of their community garden to support the pupils and staff and foster links with the wider community. CMS will also be helping with planting needs and supplying materials e.g. paving slabs, fencing etc. We are also looking to put together classes for the students with our staff to demonstrate skills such plumbing and joinery.
Further updates on the Woodbank Park Athletics and Wythenshawe Campus projects will be provided as they progress.